Product Background
What is SAP Analytics Cloud?
SAP Analytics Cloud is an SaaS solution for analytics, planning, and smart prediction. Please refer to the SAP Analytics Cloud website for details.
Why does SAP S/4HANA Cloud embed SAP Analytics Cloud?
Next to integrated operational processes, it takes first-class analytics to make an enterprise intelligent: Business users expect pre-defined reporting, seamlessly embedded into their daily work. They expect personalized access to data and ad-hoc analytical capabilities to get as much value out of their enterprise data as possible. And with the deep integration of SAP Analytics Cloud into the solution, this is exactly what SAP S/4HANA Cloud customers get with the 1911 release.

How does the embedding work?
For each SAP S/4HANA Cloud tenant, a new SAP Analytics Cloud tenant is provided. The SAP Analytics Cloud accesses the
ABAP CDS views
live, using the transient analytical queries generated automatically for the CDS views. Please look at the Architecture diagram in
Figure 1: High Level Architecture
. SAP Analytics Cloud UIs will be embedded in iFrames and published on the Fiori Launchpad.
All relevant SAP Analytics Cloud features – from tenant provisioning and connectivity to content management and lifecycle – have been published as APIs, so the embedded SAP Analytics Cloud can be "remote controlled" by the embedding applications. These APIs are available to other applications and even Partners.
This means that the embedded SAP Analytics Cloud is completely managed by SAP S/4HANA Cloud. Customers do not need to log on to the embedded SAP Analytics Cloud specifically, nor can they.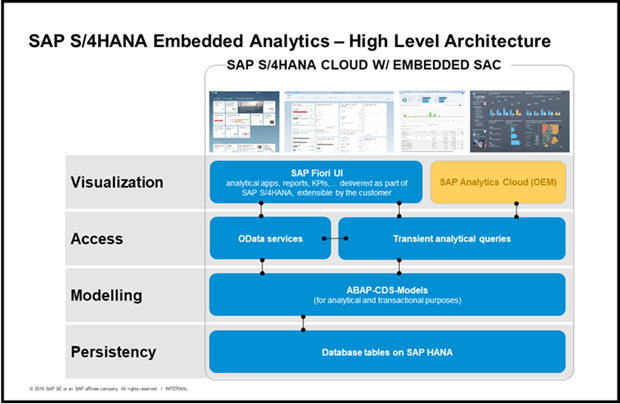 Figure 1: High Level Architecture

Does "embedded SAP Analytics Cloud" go beyond a simply iFrame integration?
Yes! SAP Analytics Cloud is deeply embedded into the Fiori UX paradigms: Launched from the Fiori launchpad and based on live data connections and thus up-to-date information, SAP Analytics Cloud stories are integrated by means of a "wrapper application": This software takes care of offering screen-variant saving and personalization features as well as intend-based navigation between analytical and operational applications. Role-based assignment of the SAP Analytics Cloud Stories is also available, and the content lifecycle is also fully handled by SAP S/4HANA Cloud.
A lab preview showing screen variants and Intend-based navigation can be found in Figure 2. Of course, users will not be able to simultaneously trigger both option. These options have been overlaid in one screen for simplicity.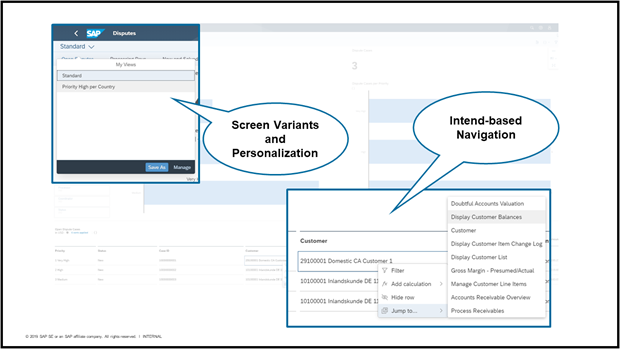 Figure 2: Screen Variants and Intend-based Navigation (edited to show both features in one screen)
Features and Capabilities
Do all SAP S/4HANA Cloud customers receive the embedded SAP Analytics Cloud or do I need to apply for it specifically?
No need to apply or trigger anything explicitly. By now, all SAP S/4HANA Cloud customers may use the embedded SAP Analytics Cloud, as all required tenants have been provisioned.


How do SAP S/4HANA Cloud customers receive the embedded SAC? Does an additional scope item need to be implemented? How much effort does that create?
After the upgrade, dedicated scripts spin off a new SAP Analytics Cloud tenant for each S/4HANA Cloud tenant (so, one for your Q and one for your P system). These scripts also set up the live data connection between SAP Analytics Cloud and SAP S/4HANA Cloud and finally hook SAP Analytics Cloud into to common user management. Thus, the entire system landscape enhancement is fully automated.
For some of the new stories or data analyzer reports, a scope item has to be activated first. This is a small one-time effort. Please check
Katharina Doerr's newly-released overview blog
for details and documentation: every story or data analyzer report with an asterix (*) requires a scope item activation.
What can customers expect in terms of predefined dashboards?
The last step of the landscape provisioning is the automatic installation of so-call business content. SAP Analytics Cloud models and stories are installed in your tenants and they are ready to run.
The best overview of the content built for the embedded SAP Analytics Cloud in SAP S/4HANA Cloud can be found in Katharina Doerr's newly-released overview blog.

Again, for reference:
The first delivery focused on Finance. For more details, please check Katharina Doerr's blog.
Additional stories/dashboards have been included in the SAP S/4HANA Cloud delivery of February 2020 (release name 2002), check out the "Analytics" section of Katrin Deissner's blog.

Can the pre-delivered dashboards be modified?
Yes, by making a copy of the pre-delivered dashboard and modifying the copy. Actually, this functionality will be made available in the release 2002 according to current plans. Until then, business users may use the screen variant saving to personalize the stories for their needs.

Can I build my own content?
Yes.
SAP S/4HANA Cloud extensibility concepts
also apply to content: Key users can use the already existing Fiori application "Manage KPIs and Report" to build their own stories with the intuitive what-you-see-is-what-you-get WYSIWYG SAP Analytics Cloud designer. You may even create your
custom ABAP CDS view
and build your own content on top of this.
Where can I find detailed information about the new features and how to use them?
Given you have the necessary key user authorizations, you may create your own dashboards and data analyzer reports. Let me point you to the following very detailed blogs by Avinash Kumar. They come with screen shots and step-by-step explanations how to …
How does the lifecycle of custom content work?
SAP Analytics Cloud artefacts will be moved to receiving tenants using the standard SAP S/4HANA Cloud mechanisms. SAP ensures, that content and other configurations or enhancements (like your custom CDS view) are consistently treated automatically.
Technically, the Analytics Content Network (ACN), an integral component of SAP Analytics Cloud, takes care of moving content between tenants. This technical process has once more been included into the Fiori tool set and thus customers do not need to trigger any additional processes to move content.

Does the "embedded scenario" require additional licenses?
No, the embedded SAP Analytics Cloud features are covered by the existing SAP S/4HANA Cloud license.

Does the embedded SAP Analytics Cloud replace any other technology or product?
No, it does not. It is an additional offer to support dashboard and data analysis. If at a later state technology or products will be substituted by SAC, this will be announced two releases in advance as always.

Is the embedded scenario restricted to SAP S/4HANA Cloud? What about on premise or STE?
Yes, for the time being the embedded scenario is restricted to SAP S/4HANA Cloud. The complete embedded experience is not available yet for SAP S/4HANA on premise, nor for the STE (single tenant edition). While the URLs to SAP Analytics Cloud stories may even today be added to Fiori tiles, the result cannot be called truly embedded, not least because a new window will be opened. The above-mentioned wrapper application ensures the tight integration between Fiori UX and SAP Analytics Cloud.
Similar coding should eventually be made available for SAP S/4HANA on premise; according to current plans this will come in the course of the next year. The end-to-end tenant provisioning will most probably not be included, so customers of SAP S/4HANA on premise will have to pay for a license and the system landscape management will be a one-time manual effort. Please remark that this plan might change, so please refer to the official SAP S/4HANA roadmap.